Ophiuchi
Ophiuchi is a band from Pretoria, South Africa (currently Utrecht area, Netherlands). Its membership consists of one anatomically-modern human male.

By cleverly exploiting a variety of prehensile appendages, Ophiuchi arranges the sonics found in doom, sludge, black metal and folk music into a classically-derived, movement-based format.

Influences include Portal, Blut Aus Nord, Tool, King Crimson and Yob.

A debut LP, titled Bifurcaria Bifurcata, was released digitally on April 10th, 2017. January 15th, 2018 saw a limited 12" vinyl pressing of a dedicated vinyl master.

Work on follow-up album Shibboleth commenced in late 2018 – in parallel with the development of a visual companion to the album in the form of etching and printmaking. Slated for release in 2021, Shibboleth again draws from Greek mythology (this time from Homer's Odyssey), as well as from the Gnostic body of work, specifically the concept of Gnostic exile.
Press
2023/10/08
A small detour on the way to the new album: A sped-up printmaking video featuring the title track of the last album re-arranged for piano.
Get the song here and impress your cousins at the next village fertility ritual.
2023/07/20
Herewith a public service announcement expounding the health benefits of consuming the milk of the Pacific Beetle cockroach. Roach milk can be described as a growth industry, and while one really needs specialised equipment to get to those teeny tiny roach mammaries, it's a drink rich in essential vitamins and amino acids. Like all animals we get milk from they need to be pregnant though, and, much like human farmers with cows, a well-thought-out breeding programme will keep your roaches happily lactating. I've found that with sufficiently dirty conditions beneath the fridge one can have up to a shot glass of rich, foamy goodness complementing each and every breakfast.
Important: the best known food for a lactating cockroach happens to be other lactating cockroaches; however, the astute observer will notice the counter-productivity inherent to permitting cannibalism among the flock. Subsequently I advise neophytes to attract a small cockroach family by leaving out saucers of opossum milk enriched with testosterone blockers. In this regard I've found cannaboid oils to work a treat.
In other news, Ophiuchi album #3 is progressing swimmingly, if slowly. The ABBA-esque vocal lines, the surf rock guitar lines and dream pop synths all gently intertwining in the exclusively major key aesthetic: all these staple elements are present in abundance, and my antaenna twitch in happy anticipation at the thingless things stewing forth in the musical slow-cooker.
2021/05/16
New 'Art Store' section added to the site. I'll continuously update the art store with new prints as they become available.
2021/05/10
As you can hear from the friendly background music (and the complete absence of bass frequencies in the brass section), all is well and the fine art print edition is coming along nicely. I'm almost saddened by the fact that the prints are of a much higher quality than those I used for the album art. Such is life.
Work on the composition of album #3 has started. It'll take years to complete though. In the meantime I have contractual obligations to fulfill with recording that snuff film laugh-track.

2021/04/29
So allegedly the album releases tomorrow.

Here's a picture of my printing press and some of the etches I've made for a limited edition. I'd like to limit the edition to around 25 prints, partly because I'm unsure of how many prints the aquatint plate would be able to handle, and partly because it's an enormous amount of physical labour for a single print.




2021/03/21
Album artwork. Left column: the initial digital concept. Middle: final zinc plate, 25x50cm, each created following a variation on the old aquatint process, and done in mirror image for prints to appear right way round. Right column: Artist proof print done with a hand-press, black ink on etching paper.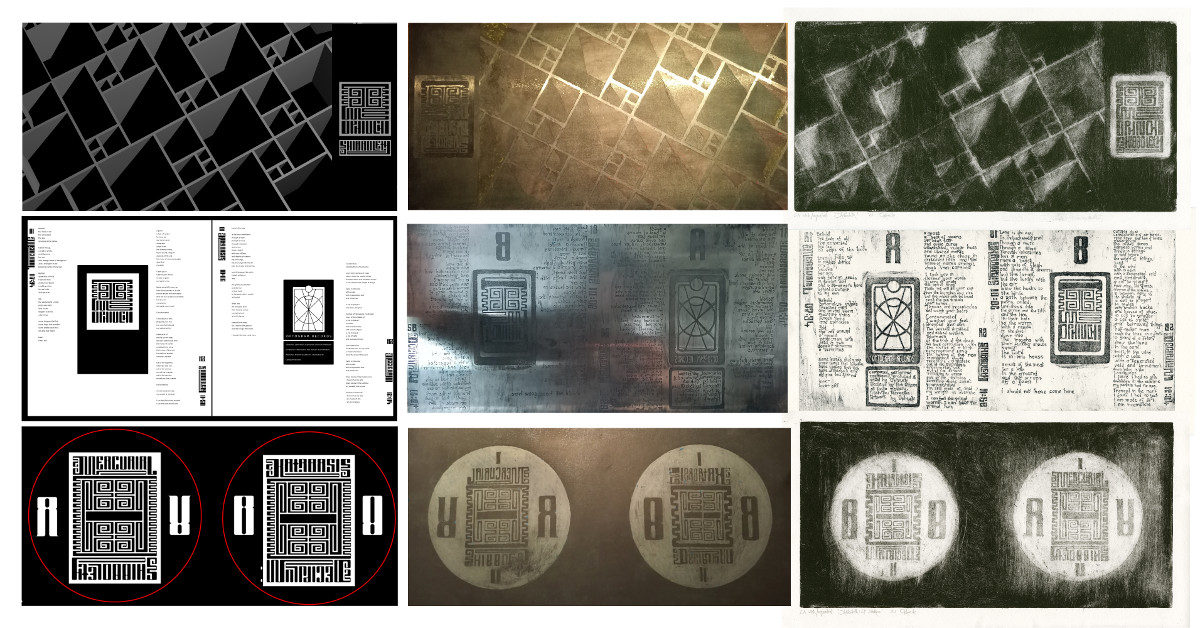 2021/03/16
New album Shibboleth releases on April 30th, 2021.
Preorder it here

2021/02/14
If it's easy, you're doing it wrong. Or, give me enough rope, and I will hang myself impressively, as a sage on the internet once said. I am, of course, referring to the album art. It could have been straightforward. Do a nice digital painting. Slap an unreadable logo on it. Done. But no. Instead I opted for the left-hand path of album artwork. To the two uniformed men in the windowless van outside my home, let me clarify: this has nothing to do with... anyway. What I am referring to is printmaking. If the various art forms were people, printmaking would be the individual whose talents a board of specialists would deem fit to attenuate medically. It's unpredictable, it's labour-intensive, it's messy. But, if nothing else, there are some fantastic solvents involved. If it sounds like I'm complaining, I'm not. In fact: I am incredibly happy (and more than just a bit relieved) with the results. I'm just still surprised at my own masochism, having opted for a printmaking method known as aquatinting. I've long since harboured fantasies of being able to reproduce the album's artwork from hand-made printing plates. It's all about the plates, man. Who gives a shit about cheap digital reproductions of album art? Some do. I certainly don't. Hence, printmaking. I can now do limited editions of the album art. Fine art prints, 25x50cm in size, on 300g Hahnemuehle etching paper, with some good oil-based inks, hand-printed with a press I acquired 6 months ago for this exact purpose. I don't expect there to be a huge market for my substandard noodles. But I can offer you this: hand-made prints from <REDACTED> black metallers make GREAT conversation pieces.

2021/02/01
Mastering is complete. Next up: artwork, packaging, merchandise.[1]
[1]Available soon! Our complete range of vinyls, t-shirts, cassettes, coffee cups, his-and-hers matching bathrobe sets, back-scratchers, lounge cushion sets, stylishly bottled feces, hand-sculpted dildos, collected fingernail clippings, narwhal fleshlights, christmas decorations, abstract shape anal beads (patent pending), and, of course, the ever-popular Ophiuchi gris-gris construction kit.


2021/01/01
All mixes ready for mastering, booked for mid-January.

2020/12/14
Barring the complete collapse of the ionosphere, Toba-style catastrophes, pillaging hordes, equipment failure, premature death at the hands of feral gangs of urchins, nuclear holocaust or my own stupidity (by far the most likely), the album mixes[1] will be ready for mastering[2] in 2020 still.
[1]Mixing, commonly known as the fix-it-in-the-mastering stage
[2]Mastering, commonly known as the fix-it-in-the-marketing stage


2020/10/25
The reeking, fetid albatrosses of composition, tracking and engineering have more or less been cut loose to be replaced with the reeking, fetid albatross of mixing. Fictionalised account of engineering/tracking phase to be found here.[1] I await the existential despair and sense of impending doom that mixing will bring with an apprehension not entirely dissimilar to that of an ancient Carthaginian during planting season.[2]
[1]Any similarities with real persons, places or events are purely coincidental.
[2]Extrapolating from here, we're looking at finished masters end of 2020, Anno Dei, Year of the b...rat.

2020/10/16
Migration to new registrar and hosting complete.

2020/08/31
You'd be forgiven for thinking that tracking is progressing on geological time scales over here. It'd be easy to offer up an excuse[1] but the truth is that my process is really just that laborious, and that things are going much faster than anticipated.

All instrumentation tracked, around half of the vocals remain.

[1]...and what a handy excuse a global pandemic could be. I feel that I'm somehow missing an opportunity here.


2020/01/19
Tracking has commenced.

2020/01/12
Pre-production on the new Ophiuchi album[1] is mostly done.

Tracking to start soon.
[1]Having switched to grindcore it has a 12-minute run-length and is tentatively titled Discoloured Scrotum.

I kid, I kid.

Perhaps.


2018/03/25
Regrettably, we no longer ship vinyls to South Africa[1]. Bandcamp does not allow specific countries to be disqualified for shipping, hence the hefty $200 price tag, which is the maximum allowed shipping price for any physically shipped item.[2].
[1]The only affordable shipping option to SA requires the cooperation of the fully mummified corpse of the local postal service.
[2]If you really, truly feel that you will die an unfulfilled mammalian biped by not owning this album on vinyl... $200 is enough to send over the album with DHL priority. Note that you're still going to wait a month for customs to finish picking their noses.


2018/01/15
Order your 12" vinyl copy of Bifurcaria Bifurcata over at the bandcamp page.

2017/12/26
Vinyl release date confirmation: January 15th, 2018.

2017/12/04
Pending a last few loose ends[1], the first vinyl pressing of Bifurcaria Bifurcata will go on sale end of December 2017. A digital download[2] in a flavour of your preference will accompany each vinyl purchase.
[1] Last QA checks, reassignment of non-critical staff to the Magadanskaya Oblast with new identities following extensive electroshock treatment etc.
[2] Available immediately upon vinyl purchase. The download differs from the stock digital release - its source is the vinyl master and has more dynamic range. A needle drop of a vinyl release (assuming a dedicated vinyl master) often sound better than the corresponding CD or digital release, since the medium is less forgiving towards a lack of dynamic range. Compare this to the oft-brickwalled sound of the average CD/digital release. This particular problem is due to the terrible crimes that labels, some mixing engineers, musicians and radio playlist selection cartels force mastering engineers to commit with the final 2bus print's dynamic range. Luckily, physics does not care about marketing personnel. Perhaps you might not hear any differences[3], but the vinyl's accompanying download is the absolute best version that you could possibly hope to hear of this album.[4]
[3] Apart from a slightly more open sound, the discerning listener might notice less ear fatigue upon extended listens.
[4] Barring the actual 96kHz master itself, of course.